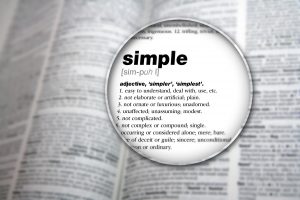 Plain English is 'clear and unambiguous language, without the use of technical or difficult terms'.
We are tempted to use complex language because we believe:
Well-educated readers will prefer it and expect it
Using long sentences, complex structures and technical words makes us look more intelligent.
Both assumptions are traps.
Research shows that readers of all educational levels find plain English easier to understand. It also shows that writer is perceived to be more knowledgeable if they use plain English.
At Words2Win, we're working on a project to re-write a series of documents in plain English The documents are for school principals and were originally written by lawyers. In focus groups, the principals unanimously preferred the plain English versions and said they were much easier to use.
To write Plain English:
 Use short sentences (we use 15-20 words as a target)
Avoid words with multiple syllables.
Explain technical terms the first time they are used
Convert list sentences to bullets
Check reading ease – the Flesch scale measures how easy a document is to read. The higher the score, the easier it is to understand. A score of 60-80 means that the general public will understand.
Grade level – the Flesch-Kincaid grade level scores shows the school grade level a reader would need to have in order to understand your content. A level 8 is understood by most people.
You can check reading ease and grade level in Word.
Putting it into practice: this article has:
13.1 words per sentence
A reading ease score of 60.8
Is at grade level of 8
Want to re-write your complex documents in plain English? Words2Win can help.